Saving the Environment through Tourism
EXPEDITION OVERVIEW
In this specially prepared expedition, you will accompany President and Founder of The Orangutan Project, Leif Cocks into the jungle habitat of Bukit Tigapuluh to witness orangutans in their natural environment.  This tour is limited to just four people due to the difficult access and special vehicles required, and because it allows exclusive access to the orangutan reintroduction work being undertaken. As sponsors of The Orangutan Project you will be allowed unique access into this area and shown how the facilities operate by those who work there. Truly a very unique and highly honoured opportunity!
Our destination for this trip are the jungles of Bukit Tigapuluh in Sumatra (Jambi Province located in Central Sumatra) to see the orangutan in its natural environment and also visit the Open Orangutan Sanctuary.
The Bukit Tigapuluh Ecosystem is one of the important conservation areas in Sumatra with a strategic function to support sustainable conservation. The Bukit Tigapuluh National Park (BTNP) is located in the core area of this ecosystem and surrounded by a buffer zone with forests of high conservation value. The forest in the BTNP area and its buffer zone constitute an integral system with a direct impact on the integrity of the ecosystem as a whole.
The Bukit Tigapuluh Ecosystem area is an important habitat for three key species namely the Sumatran tiger, the Sumatran elephant and the Sumatran orangutan. Therefore, the conservation of the Bukit Tigapuluh Ecosystem plays an important role in the conservation of these three key species. The Bukit Tigapuluh Ecosystem is the only orangutan re- introduction area in Sumatra and the largest orangutan habitat outside the Leuser Ecosystem. The Bukit Tigapuluh Ecosystem is also an important habitat for the Sumatran elephant and the Sumatran tiger. The Sumatran elephant and the Sumatran tiger population in the Bukit Tigapuluh Ecosystem are one of the most important populations in the whole Sumatra.
After Sumatra, we head back to Jakarta. For those that want an adventure on the way back, we will be offering an action packed extensions to Krakatoa and other Java locations. If you are interested in adventure and giving back to the world at the same time, then you have got to be part of this expedition.
WHAT TO EXPECT
You are embarking on an adventure to places and amongst people whose lives are very different from your own. Many aspects of life in Indonesia will seem unusual. Remember that these are often the same aspects that make an area an exotic and attractive destination. In addition to the personal physical challenges you may face, travel conditions can present unexpected obstacles, such as rough and bumpy roads and changeable weather. To prepare for this "pack" a flexible and relaxed attitude. Bring a spirit of adventure and inquiry, a healthy sense of humorand a willingness to encounter the unexpected and you will find your trip to Indonesia the adventure of a lifetime!
LEIF TALKS ABOUT THIS TOUR
Bukit Tigapuluh " a remote and wild place. Thanks to the world most successful orangutan reintroduction program, started to re-establish the Sumatran orangutan population that went extinct in the 1830s, now over 150 orangutans live within it™s is borders. This is a  rare opportunity to go to a genuine conservation field site, as most other sites that tourist can visit much of the serious scientific conservation work has long passed. However thanks to The Orangutan Project & Orangutan Odysseys there is now an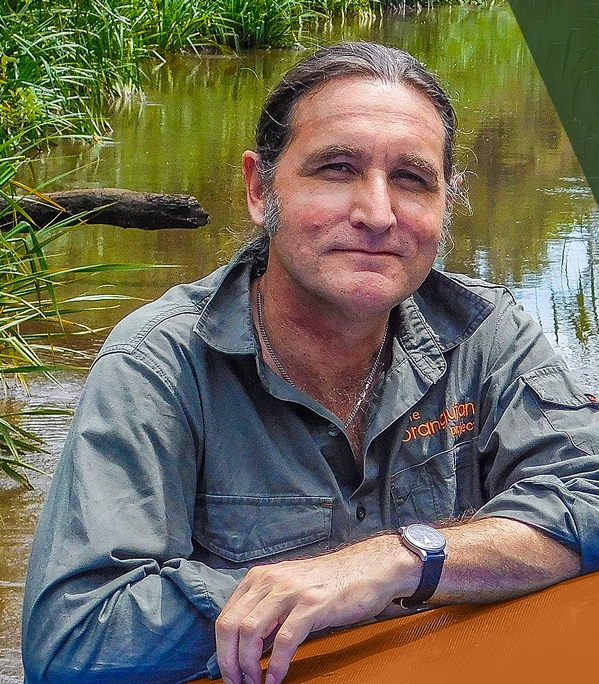 opportunity to have a personally guided experience into on-the-ground wildlife protection, orangutan rehabilitation and release. We will be travelling through challenging conditions where only highly modified four wheel drive vehicles can reach to spend time in the field stations and remote rainforest to see and experience first-hand the challenges and the achievements being under taken in the Bukit Tigapuluh ecosystem. For four lucky sponsors this will be both a challenging and rewarding experience and an unforgettable once in a life time experience that simply is not available to the general public.
 
Leif says "Want an enjoyable holiday, but want it be something more? Why not, see what is really going on, connect with the most intelligent fellow beings on the planet, meet the people working at the coal face and become part of the solution".
HIGHLIGHTS
Visit Jambi province and the Bukit Tigapuluh National Park;
See both reintroduced and wild orangutans in their natural environment;
Trek through the jungle and plant a tree;
Spend time with orangutan technicians;
Visit the Open Orangutan Sanctuary;
Help save the orangutans from extinction;
Be escorted and educated by the TOP's founder and President Leif Cocks
ITINERARY
ITINERARY  
1) 15 to 22 April 
2) 31 August to 7 September 2020

Day 1: Arrive in Jakarta
On arrival in Jakarta you will be meet by the hotel staff and transferred  to the FM7 hotel for overnight stay. Tonight you will meet Leif Cocks and the rest of the group and have a briefing about the tour and travel for the next day.
Day 2: Jakarta - Jambi
Early morning we transfer you to the airport and onto your flight direct through to Jambi. From the airport we will travelby road cars until we meet up with our specialised four wheeled drive vehicles for the final drive through to our basecamp inside the Bukit Tigapuluh forests. This drive is a long one and will take 11 -12 hours and we shall stop along the way for lunch at a restaurant and take dinner on arrival at Sungai Pengian. Late afternoon we shall arrive at our basecamp site (Sungai Pengian) inside the BTNP. (B,L,D)
Day 3: Bukit Tigapuluh Camp
First thing in the morning after an early breakfastwe will be taken for a tour of the camp and be given details on how the site operates along with a tour short walk around the surrounding forest areas. Then we shall join one of the orangutan technicians working there and spend the day in the forest with them watching and observing as they go about their duties. We watch as they monitor the orangutans movements and record the daily logs. (B,L,D)
Day 4: Bukit Tigapuluh Camp
In the morning we will spend with the Telemetry team. We will go back into the jungle with the team and watch and learn as they locate the orangutans that have been given implant chips. We return to base camp for lunch before our afternoon forest walk to Bukit Terang where we get to the top of a hill and view the surrounding forests. Dinner in camp (B,L,D)
Day 5: BTP Camp - Open Orangutan Sanctuary
We leave our basecamp and travel by our four wheel drive vehicles approximately 5-6 hours to theOpen Orangutan Sanctuary located in a different area in the ecosystem. Here you will see the work being done to œteach the young orangutans about becoming wild and living by themselves in their rainforest homes.Dinner will include a talk from Leif about the nature on this work and where it will lead in the future. Overnight at the Sanctuary (B,L,D)
Day 6: Orangutan Sanctuary
You get the full day here where wewill visit œjungle school and watch as the young orangutans learn about climbing trees, which fruits to eat and more. See the quarantine area and leanrn more about how the young orangutans are prepared for release in the jungles where you have just visited. Dinner will include a talk from Leif about the nature on this work and where it will lead in the future. Overnight at the Sanctuary (B,L,D)
Day 7: Bukit Tigapuluh - Jambi
This morning after an early breakfast we will see the orangutan behavioural enrichment programme before we leave the Orangutan Sanctuary after lunch and return to Jambi town and our hotel. The return trip is 4 to 5 hour trip before our final night™s dinner and overnight at the Aston hotel (B,L)
Day 8: Jambi - Jakarta -
Today we will transfer you to the airport and onto your flights to Jakarta to meet with your late night flights back to home. Additional overnight accommodations or trip extensions can be arranged if required. Please contact Hayley at our office (B)
HEALTH, FITNESS & HEALTH CERTIFICATES
HEALTH & FITNESS
Please note that this expedition has some jungle trekking involved in very remote area's.  The trekking can be difficult in some parts and requires a very good level of overall fitness, taking into account that the weather in Sumatra can be very hot and humid at times.    A suggestion for fitness would be that you would be doing some type of physical activity at least 3-4 times a week, which includes some walking or jogging, with hills involved.  Obviously the fitter you are the more enjoyable you will find this expedition.   We suggest that all guests on the Bukit Tigapuluh expedition should have a health check with a physician prior to their trip to ensure that they are in good physical health prior to embarking on this expedition.  If you wish to discuss this further, please do not hesitate to contact our office.
HEALTH CERTIFICATES
Please note that as part of this special access visit all guests are required to provide a health certificate as outlined below. This is to ensure the continued health and safety for the orangutans in this location. Please arrange to visit your doctor and arrange for this certficate and forward copies to our office prior to departure.   Visitors must be tested for
1.TB (by one of the following:x-ray, ICT test, Mantoux test) and, 2.Hepatitis B (by one of the following: HBsAg, Anti HBs, Anti HBc) before they will be allowed to enter the reintroduction centre. Evidence of these negative tests must be provided to the orangutan station management before entry.
INCLUSIONS & EXCLUSIONS
INCLUSIONS
Domestic airfares
Donation for The Orangutan Project of $2,500 per person (completed prior to departure)
Special guest host Leif Cocks for the entire expedition
Accommodation in Jakarta / Jambi / Bukit Tigapuluh
Meals as noted in the itinerary (B,L,D)
National park fees
All vehicles tranfers
Experienced local guides
Orangutan Odysseys water bottle and travel pack
 EXCLUSIONS
International airfares and any expenses due to flight delay or cancellations
Visa (Social visa required)
Travel Insurance
Personal expenses - alcohol, laundry, phone calls
Tipping
EXPEDITION GOALS & PROJECT FUNDRAISING
EXPEDITION GOALS
Our goal is to provide our guests with a magical and very unique experience, to observe semi-wild orangutans in their natural habitat. We will provide you with a safe platform to observe other wildlife Sumatra has to offer including gibbons and more. We will also provide you with comprehensive information about the destination you are in so that you are fully informed of your surrounds. Further, Orangutan Odysseys as partners with The Orangutan Project support conservation programs in both Borneo and Sumatra.
PROJECT FUNDRAISING OBJECTIVES
Participants in this expedition will raise funds (a minimum of $2,500 AUD per participant is required) by getting friends, family and colleagues to fundraise via your own customised fundraising page (set and up provided by OO), especially designed to send funds directly to The Orangutan Project. Details of how to achieve this goal and further information will be sent once you have booked. Participants in this expedition will also be contributing to the survival of the orangutans and their habitat.
VISA REQUIREMENT
All guests are required to hold a B211A Social Cultural visa.
This is a requirement for guests to visit to BTP orangutan sanctuary (not for entry to Indonesia).  
You will need to contact your nearest Indonesian consulate / embassy and ask about applying for the B211A visa. This information can also be found online for some countries.
In order for the visa to be processed you will need to send your passport along with some other documents and the payment to the embassy or consulate. 
We will provide each guest with a sponsors letter to assist with this application along with additional information to help with this process after your booking has been made.
Historically the processing time has been 8-10 working days and the cost is approximately AUD$70.
Please ensure you apply with sufficient time before for your departure date.
TRIP EXTENSIONS
Why not think about seeing more amazing locations in Indonesia after your orangutan expedition? For details about our exciting trip extensions to other parts of Indonesia click here.  Or contact us directly to have a chat about what options are available to you.