Saving the Environment through Tourism
EXPEDITION OVERVIEW
Come and see orangutans the only way they should be seen, in the jungles of Borneo. Make a personal difference by contributing to a unique organisation helping to save the great red ape from extinction.
On this 12-day Orangutan Veterinary Aid (OVAID) fundraising tour, beginning in Jakarta and ending in Bali, you will be visiting rainforests, trekking into the jungles of the Kutai National Park, travelling up rivers, and driving through the landscapes of both Central and East Borneo  You will go back in time to places in the jungle where orangutans have lived freely for centuries. You will have the unique experience of visiting both the Borneo Orangutan Survival Foundation (BOSF) Centres at Nyaru Menteng & Samboja Lestari, the original and largest orangutan rescue centres in Borneo.
You will see how these teams are working incredibly hard to rescue and rehabilitate orangutan, preparing them for reintroduction back into the wild. This is where you will see the real difference being made by BOSF and OVAID
An Introduction to OVAID - Nigel & Sara Hicks
Vet, Dr Nigel Hicks and his wife Sara Fell Hicks, have been working with orangutans in Borneo and Sumatra since 2009. Together they have on-the-ground experience in rescuing, rehabilitating and releasing orangutans in both Malaysia and Indonesia.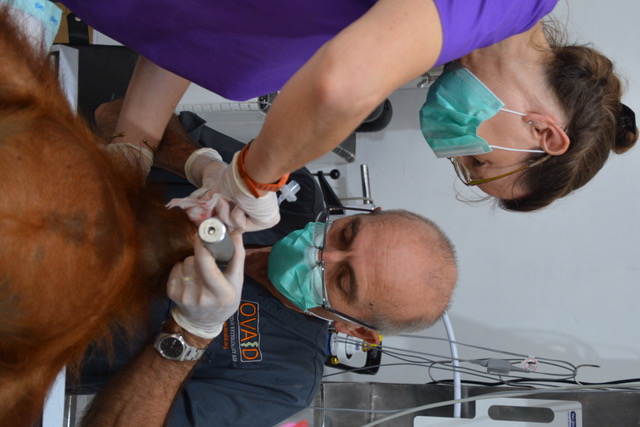 Spending approximately five of the last fourteen years living and working in these countries and being an active part of the veterinary teams in four different orangutan rescue centres, Nigel and Sara can share in-depth knowledge of this critically endangered species. Through their experiences, they recognised an urgent need for the provision of veterinary equipment, medicines and practical veterinary mentoring to orangutan rescue groups and rehabilitation centres in Indonesia and Malaysia. Initially, through friends, they raised funds to enable them to buy equipment which they personally took out to Indonesia, but it soon became apparent that a more formal structure was needed and in early 2014 they established Orangutan Veterinary Aid (OVAID) as a registered charity.
Since 2014 the charity has donated more than £300,000 in veterinary equipment, medicines and mentoring to orangutan rescue centres and rescue teams as well as wildlife centres in Borneo and Sumatra. The charity continuously seeks to support, educate and inspire. Mentoring and up-skilling are now an increasingly important aspect of OVAID™s work, with significant in-situ projects using world-recognized wildlife veterinary specialists funded by the charity in 2021, 2022 and 2023.
During this accompanied tour Dr Nigel and Sara will share presentations on their work with orangutans over the last 14 years and there will be plenty of time for one-to-one conversations as well as group discussions.
An Introduction to BOSF
Borneo Orangutan Survival's story began more than thirty years ago in 1991 with the establishment of the Wanariset, a rehabilitation centre for the rescued orangutans who had nowhere else to go. By 1998, over 500 orangutans had been rescued by BOS from areas of habitat loss as a result of human development activities in East Kalimantan and in 1999 the Nyaru Menteng Orangutan Rehabilitation Centre was established in Central Kalimantan. In 2006 in East Kalimantan, the rehabilitation activities at Wanariset were moved to the Samboja Lestari Orangutan Rehabilitation Centre.
BOSF has always been at the forefront of orangutan rehabilitation in Borneo and at one stage these two centres housed nearly 1000 orangutan. Working with the Indonesian Government BOSF has secured extensive areas of safe forest for wild and rehabilitant orangutans and now has extensive release sites in three protected areas of forest. Constantly working to improve the welfare of their unreleasable orangutans, in 2018 BOSF™s first naturally forested, orangutan sanctuary island, located in the Salat Island Cluster, was opened with the arrival of the first six unreleasable orangutans.
Why an Orangutan Tour?
Garry Sundin of Orangutan Odysseys says œHi, I have now completed several OVAID ethical tours. On each one, we have all had a great time, learnt all about the orangutans' and their veterinary care and rehabilitation, made new friends and most importantly raised awareness and much-needed funds to help save this critically endangered species. In the complex world of conservation, it is difficult to fully grasp the realities of what we see on just a short tour. I feel that the guests on these tours that have been able to discuss deeper insights into orangutan conservation and welfare, may have enjoyed the trip so much more. The more you know about something the more interesting it gets! With any trip to Borneo, a lot of time is used up getting from one place to the other, however, time can fly when you have the opportunity to discuss what you have just seen and what you are about to see in a holistic and in-depth context.
Want an enjoyable holiday, but want it to be something more? Why not see what is really going on, connect with the most intelligent fellow beings on the planet, meet the people working at the coal face and become part of the solution".
PROJECT FUNDRAISING OBJECTIVES
Participants on this expedition will raise funds (a minimum target of £900 per participant) by getting friends, family and colleagues to fundraise via your own customised fundraising page, specially designed to direct these monies straight to Orangutan Veterinary Aid. Details of how to achieve this goal and further info will be sent once you have booked. Participants on this expedition will also be contributing to the survival of the orangutans and their habitat by adopting an orphaned orangutan. (These costs are included in your trip fare).
EXPEDITION GOALS
Our goal is to provide our guests with a unique experience, to observe wild and semi-wild orangutans in their natural habitat. We will provide you with a safe platform to observe other wildlife Borneo has to offer including monkeys, gibbons and more. We will also provide you with comprehensive information about the destination you are in so that you are fully informed of your surroundings.
WHAT TO EXPECT
You are embarking on an adventure to places and amongst people whose lives are very different from your own. Many aspects of life in Indonesia will seem unusual. Remember that these are often the same aspects that make an area an exotic and attractive destination. While boat expeditions are considered easy, no trek is easy, even those rated "easy or moderate". In addition to the personal physical challenges you may face, travel conditions can present unexpected obstacles, such as rough and bumpy roads and changeable weather. To prepare for this, "pack" a flexible and relaxed attitude. Bring a spirit of adventure and inquiry, a healthy sense of humour and a willingness to encounter the unexpected and you will find your trip to Indonesia the adventure of a lifetime!
To place a booking simply click the 'Book Now' button and complete the compulsory fields of the booking form.
For guests that want further adventures, Orangutan Odysseys offer action-packed extensions to Krakatoa, Lombok, Java or perhaps to see Komodo dragons. If you are interested in adventure and giving back to the world at the same time, then you have got to be part of this expedition.
HIGHLIGHTS
Our goal is to provide our guests with a unique experience, to observe wild orangutans in their natural habitat. Travel with OVAID co-founders Dr Nigel and Sara Hicks and see first-hand how their work is helping save wildlife.
See wild orangutans in their natural rainforest habitat.
Spend time searching for other amazing wildlife.
Visit and stay at Samboja Lestari Lodge to see the rehabilitation of orangutans and sun bears
Explore and trek in the jungle of Kutai National Park experiencing the environment and seeking wild orangutans.
Travel on riverboats through remote locations.
Visit two BOSF Orangutan Rescue Centres (closed to the public).
Meet and hand over medicines and equipment to the vet teams at both centres.
Travel through Central and East Kalimantan to understand the land and culture.
Relax at the end in beautiful Bali
Help to save critically endangered orangutans
ITINERARY
12 days (1-12 November 2023)
*Subject to change due to local conditions
DAY 1 - 1st Nov: JAKARTA. Meet at FM7 Resort
Today you will arrive in Jakarta and be transferred to your hotel for your overnight accommodation at the FM7 resort located near the airport. Tonight our group will meet and hold a tour briefing.
DAY 2 - 2nd Nov:  JAKARTA - PALANGKARAYA - SABANGAU NATIONAL PARK - RUNGAN SARI
Early morning flight to Palangkaraya. Breakfast on arrival at a local cafe. After which we travel to meet our boats (motorised canoes) on Sabangau Lake. Cruise up the river to Rangers station and do trekking where we will hopefully see wild orangutans, monkeys, birds and more. Lunch provided. Afternoon return along the lake and meet our transport and then travel for about 1   hours to the Rungan Sari resort. Dinner and overnight Rungan Sari Resort (B,L,D) 
DAY 3 - 3rd Nov: KATINGAN RIVER CRUISE - SEBANGAU NATIONAL PARK
Early morning we will drive for about 2 hours to arrive at Jahanjang jetty in Pakahi on the Katingan River and board the lovely river boat Spirit of Kalimantan. After a short trip on the river, we transfer to small motorised canoes to travel through the overhanging forest along a small black water river to the WWF campsite. From here we head into the jungle for a trek looking for wild orangutans with an experienced local forest guide. Return along the Punggualas River to the boat for a cooling shower and a relaxing lunch onboard as the boat cruises downstream 2 to 3 hours along the wide muddy river with forested riversides, sightings of birds and possibly proboscis monkeys in the dense vegetation and passing tiny, subsistence villages to our southernmost destination " the village of Telaga and the nearby Klaru River. At the river mouth, we are joined by some local canoes to explore this beautiful blackwater lake system. Within RMU™s Katingan Mentaya Project forest rehabilitation area, we learn more about their REDD+ project as we quietly cruise upstream to a site to watch birds, proboscis monkeys and a variety of other wildlife. Marvel at the reflections here, especially during the rainy season. A walk along their newly installed boardwalk. We then begin our return cruise to Pakahi to cruise back upriver and sleep on board. Overnight on the riverboat. (B,L,D)
DAY 4 - 4th Nov:  KATINGAN RIVER - ORANGUTAN ISLANDS - BOSF NYARU MENTENG VISIT                
This morning after an early breakfast we shall leave the boat and travel to Kaja island to see the Borneo Orangutan Survival Foundation (BOSF) orangutan pre-release islands. From there it™s onto BOSF Nyaru Menteng (of Orangutan Jungle School fame) for a visit to the information centre to learn more about their incredible work. We have the privilege of being given exclusive permission to enter the centre (normally closed to the public) to meet the vet team and hand over OVAID™s life saving veterinary donations. You will then have the unique opportunity to observe the young orangutan returning from forest school, having their time out and enrichment. After this, transfer to Swiss Bel Hotel in Palangkaraya for check-in. (B,L) 
*Note: To gain access to the centres, for the protection of the orangutan, we have to comply with strict BOSF health regulations - important please see below.
DAY 5 - 5th Nov:  FLY TO BALIKPAPAN AND TRANSFER TO BALIKPAPAN - SAMBOJA LESTARI
This morning we fly from Palangkaraya to Balikpapan (via Surabaya). On arrival, you will be met by your local guide and transferred to your lodge at Samboja Lestari. BOSF Samboja Lestari is one of the longest and largest established rescue centres in Borneo, caring for both orangutans and sun bears. This afternoon we will have the unique experience of visiting their sun bear rehabilitation centre, where the centre cares for approximately 69 rescued sun bears. Dinner and overnight at Samboja Eco Lodge (B,D)
DAY 6 - 6th Nov: BOSF SAMBOJA LESTARI FULL DAY
This morning after breakfast you will start today's visit by seeing BOS Foundation™s orangutan on the islands at feeding time, followed by a privileged visit to the clinic (not open to the public). You will meet the dedicated vet team, discuss the incredible work that BOS Foundation carry out and hand over OVAID™s donations. We will hopefully also be able to visit other parts of the orangutan rescue centre (to be confirmed), where they care for over 100 rescued orangutans. After lunch, we visit the viewing tower where you can take in the beautiful panoramic views of the surrounding rainforest. In the afternoon (4:30 pm), drive by car to the Black River (30 minutes). On arrival, board a motorised canoe on the black river to observe the endemic proboscis monkey along the mangroves. Late afternoon return to Samboja Eco Lodge, dinner and overnight. (B,L,D).
DAY 7 - 7th Nov: DRIVE TO SANGATA.
Early morning after breakfast, we start our day™s travel by minibus from Samboja to Sangata (about 6 to 7 hours). Along the way, we will stop at the equator monument. We will have lunch at Kenari restaurant between Samarinda-Bontang. Late afternoon check into the hotel. (B,L)
DAY 8 - 8th Nov: KUTAI NATIONAL PARK & OVERNIGHT
In the morning, depart from the hotel to the Kutai National Park 20 minutes from the hotel then proceed with a motorized boat about 20 minutes to the simple camp in the Kutai National Park forest. We then trek through the rainforest to hopefully find wild orangutans in the national park. After lunch back at the camp, we continue to trek on another route to look for other wild orangutans and wildlife species in the Kutai National Park. Overnight at the Rangers station with an optional night walk. (B,L,D)
DAY 9 - 9th Nov: SANGATA to BALIKPAPAN
This morning after breakfast we will travel by boat back to meet our transport and start the long journey (7-8 hours) back to Balikpapan. Lunch along the way and arrive at our hotel in the late afternoon. Later we head to have dinner down by the ocean. Overnight at Novotel Hotel (B,L)
DAY 10 - 10th Nov: BALIKPAPAN - BALI
This morning we will visit the local mangrove area and travel by small boat to look for the proboscis monkeys and even have a chance to see a rare dolphin. Then we check out of the hotel and catch our flight to Bali and overnight at the hotel. (B)
DAY 11 - 11th Nov: BALI
Today is a free day and time to relax, sit by the pool, swim, sightsee, or whatever you choose. And most of all to have fun! (B)
Day 12 - 12th Nov: BALI- TOUR ENDS. 
Today you will be transferred to the airport for your flights home or continue your Indonesia adventures (B)
HEALTH REQUIREMENTS
We share 96.4% DNA with Orangutans making them very similar to ourselves and subject to many of the same diseases although these often manifest much more severely in the primates. For this reason, it is necessary for all guests to have certain health checks prior to entry to the centres. Test results will need to be provided one month prior to departure. Please note: these tests are mandatory and if guests do not comply with the centres™ requirements entry will be refused.
Tests required will be for COVID-19, Tuberculosis, Hepatitis B (and possibly Hepatitis C). We will inform all guests of the exact requirements in plenty of time prior to travel.
TRIP EXTENSIONS
Why not think about seeing more amazing locations in Indonesia after your orangutan expedition? For more details about some of the exciting trip extensions on offer to other parts of Indonesia please contact us.

INCLUSIONS - EXCLUSIONS
INCLUSIONS
All domestic airfares
All accommodations (twin share)
Homestay accommodation and meals in Dayak village
Meals as outlined in Itinerary. (B,L,D)
All National park fees 
All transfers in air-conditioned vehicles 
Experienced local guides through the expedition
Ranger and local guide fees and porters
Bottled drinking water throughout.
Snacks for bus travel days.
"Goodies pack" from OVAID
Souvenier Tour t-shirt
EXCLUSIONS
International Airfares and any expenses due to flight delay or cancellations
Travel Insurance (Mandatory)
Entry Visa
Personal Expenses - alcohol, laundry etc
Tipping

DONATIONS, FEES AND COST
The purpose of this trip is to create awareness of the threat of extinction facing orangutans because of the destruction of their rainforest habitat and to raise funds to help orangutans. The trip hosts, Nigel and Sara are generously donating their time and expertise to help make this a most unique trip and a special experience for all our guests. Orangutan Odysseys tours have now raised over $1,000,000 since 2011 to help support the orangutan™s survival. Each participant of the trip will adopt an orangutan (included in the trip fare) and agree to fundraise a minimum of GB £900 in donations specifically for OVAID. Your participation in this event WILL make a difference to help save orangutans' lives.
 
How will your fundraising be spent? All of the money raised will be completely utilised by OVAID to supply much-needed medicines and equipment for the BOSF rescue centres and their remote release stations and to support the further training of Indonesian vets.
Nigel and Sara have advised that the following equipment supplies will be provided:-
Samboja Lestari
- Digital dental X-ray system including a hand-held x-ray generator. - Air driven dental Machine.
- Dental instruments including luxators and winged elevators.
- Vet team's Wish List supplies.
Nyaru Menteng 
- Air driven dental machine.
- Dental instruments including luxators and winged elevators.
- Vet team™s Wish List supplies.
In addition to the above, OVAID have plentiful supplies of smaller items which guests can also present to the vet teams.
If guests wish to make additional individual personal donations please contact OVAID at info@ovaid.org for a list of suitable items.
Come and join us on an adventure that gives back!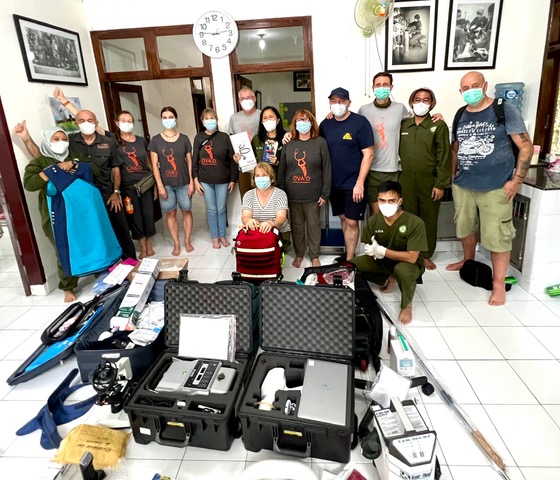 FROM
$4250.00 (AUD)
UK£2480
ex Jakarta (twin-share). Participants in this expedition are required to fundraise a minimum of GB£900. 
BOOK NOW
$850.00
Single supplement
ACTIVITIES
Orangutan and wildlife viewing
Jungle trekking
Meet orangutan conservationists
Orangutan rescue centre visits x 2
Help contribute to saving orangutans
Boat cruise
and more....
You will be supporting OVAID in their work saving orangutans by providing vital veterinary equipment and supplies. You will also be helping in supporting the work being done by the Borneo Orangutan Survival Foundation (BOSF) in both Central and East Borneo