Saving the Environment through Tourism
Risk Management Policy
INTRODUCTION
Regions of Borneo (Indonesia/Malaysia) and Sumatra (Indonesia) where orangutans and wildlife can be viewed are in remote and rugged areas of these countries, along with busy and bustling cities. Sometimes there can be very few medical facilities, little to no vehicle access and at times there can be only limited radio or mobile phone contact.

In light of these challenging environments, Orangutan Odysseys has developed and implemented a range of innovative risk mitigation procedures that address every eventuality that we believe could occur whilst traveling to see orangutans in Borneo & Sumatra.
PRE-TREK BRIEFING
Prior to each group departing for their trek they will receive a full tour briefing from their Australian or local guide at the hotel. All aspects of risk management and other aspects of the trip are addressed at this meeting. Questions and discussions are encouraged.

COMMUNICATION
Orangutan Odysseys use mobile phones and/or Satellite phones on all expeditions. The phone is carried in a shockproof and water proof case and a spare battery is also carried. The phone allows us to communicate with local bases and to Australia in case of an emergency. For the duration of all trips we also have staff on standby to assist should an unlikely situation occur.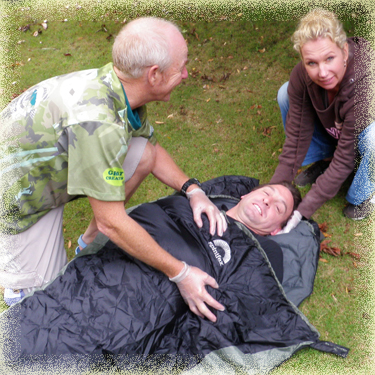 FIRST AID
An Australian and/or local guide who is experienced or has basic expereince in providing emergency first aid accompanies every expedition. Some are trained in either Emergency Medical Response and/or Wilderness First Aid and others have basic knowledge. All expeditions carry a suitably stocked trekking first aid kit. We also request that all travellers to carry a personal first aid kit with any individual medications they might need.

Orangutan Odysseys also has a direct link by phone to a medical practitioner in Australia who is on call to provide medical advice.

MEDICATION & MEDICAL HISTORIES
On all booking forms, travelers are requested to provide details of any medical conditions or vital medication(s) that they would be taking during the trip. These details are given to the guide for reference, in case of an unlikely emergency. This information is treated with the strictest confidence.

EXPEDITION PROCEDURES
Our groups are supported by a skilled team of local guides and support crew from the villages within the areas where travel takes place. We have developed a system that ensures that our travelers cannot be separated and lose contact with the group.

An experienced local guide also accompanies each group. They have visited these areas numerous times and has been promoted to this position of responsibility due to his/her skill and knowledge of the local area and customs. Apart from being the senior member of the team, one of his/her responsibilities is to ensure that no traveler drops behind his/her position.

The Australian guide, if in attendance, will be on hand at all times making sure everything is running smoothly. We have found that this system ensures that all members of the group are in contact and that their well being is regularly assessed. It also ensures that should a problem occur they are quickly attended too.

BOAT & RIVER TRAVEL
Guests are requested to advise an Orangutan Odysseys staff member if they are a non or a weak swimmer before departure. All boat travel includes supply of life vests and briefing about boat safety. The Australian guide will be advised and the information will be treated in the strictest confidence.

EVACUATIONS
Any evacuations required usually relate to injury or medical conditions that pose a threat to a trekker. Prior to arriving, we will identify nearby landing strips at villages as well as possible heli-pads and numerous locations that are suitable to use as helicopter landing sites. We also have the equipment and expertise to prepare a helicopter landing pad in the jungle if required.

Orangutan Odysseys has developed set evacuation procedures, which are regularly practiced and reviewed.

Whether a fixed wing or helicopter is required for the evacuation the initial procedure remains the same. The nominated member of our Australian management team will be notified of any situations via satellite phone. The travel insurer of the trekker being evacuated will be contacted and arrangements made in conjunction with the company.

Arrangements will be made for air evacuation (if required) to take place as soon as possible. An Orangutan Odysseys staff member or chaperone will personally accompany the patient to local medical facilities. At no time will the injured traveller be left unaccompanied.

Note: Evacuation and hospital costs are borne by the traveler through their travel insurance. It is for this reason that we require all travellers to have travel insurance which includes emergency evacution. In the case where an evacuation and subsequent hospitalisation is required our office will be in regular contact with the family of the traveller.

FOOD HANDLING/PREPARATION
Orangutan Odysseys has an excellent record regarding the prevention of outbreaks of gastrointestinal infections in our groups. This is due to our strict policies on food handling. We insist that precautions are taken prior to handling food. All our food is washed and prepared by special cooking team members, who understand the need for extreme hygiene in these conditions.

All persons handling/preparing food must first wash their hands with supplied sanitizing hand gel. This régime is required prior to eating and following toilet visits.

We strongly recommend that all guests bring their own personal hand sanitizer gel as well as use water purification tablets in all water obtained from streams/rivers in order to prevent water borne infections.

POLITICAL & SOCIAL UNREST
Indonesia and Malaysia are generally very stable societies so the likelihood of political unrest is low. Orangutan Odysseys has dedicated time into building excellent relations with all regional groups. However, pockets of social unrest in local areas are possible.
NATURAL DISASTERS
Once again, the likelihood of a natural disaster occurring is remote. Landslides and flash floods are potential hazards. Our team understands the land in which they operate and will always move trekkers away from potential landslide sights. They also camp well above rivers in case of flash flooding

THE LOCAL TEAM
The Orangutan Odysseys team of guides and porters are experts in living in a jungle environment and are very familiar with every aspect of their regions. This wonderful care continues!!!

BALI / JAKARTA / SINGAPORE / KL
Indonesia is considered a relatively safe place to travel. However, we do ask each guest to take precautions with their personal belongings. All airport transfers are conducted in an Orangutans Odysseys authorised vehicle. Travellers are accompanied by members of our team at all times, who are experienced in working in Indonesia.

Additional Information: If any points in this document require clarification or if additional information is required, please do not hesitate contacting us.