Saving the Environment through Tourism
Expedition Overview
On this exciting and adventurous nine day fundraising tour (beginning and ending in Jakarta) you will visit rainforests of Central & West Borneo, you will trek and camp the jungle, cruise along rivers, visiting both Sebangau and Gunung Palung National Parks. We will search for wildlife along the way and possibly see wild orangutan in their natural surroundings. We will also see orangutans in the final stages of rehabilitation on their dedicated islands adjusting to freedom and preparing for future release back to the wild.
This tour includes the privileged and the unique opportunity to visit International Animal Rescue (IAR) and Borneo Orangutan Survival Foundation (BOSF) rescue centres and see where veterinarians are breaking new ground on medical treatment of the red ape and where orangutans are rehabilitated for reintroduction back into the wild. This is where you will see the real difference being made by OVAID. If you are interested in an ethical adventure which gives back to the orangutan, your participation in this tour will enable OVAID to save more lives. This is a once in a lifetime expedition that we feel sure you will want to be part of.
 
After Borneo, we head back to Jakarta. For those that want the adventure to continue after the tour, Orangutan Odysseyscan offer action packed extensions to places like Krakatau Volcano, Yogyakarta, see the Komodo dragons and more.
An Introduction to OVAID - Nigel & Sara Hicks
Vet, Nigel Hicks and his wife, Sara Fell Hicks, have been working with orangutan in Borneoand Sumatra since 2009. Through their experiences they recognised a need for the provision of veterinary equipment, medicines and practical veterinary mentoring to orangutan rescue groups and rehabilitation centres in Indonesia and Malaysia. Initially through friends they raised funds to enable them to buy equipment which they personally took out to Indonesia. It soon became obvious that a more formal structure was needed and in early 2014 Orangutan Veterinary Aid (OVAID) was established as a registered charity.
The charity supports vets working at the front line of orangutan rescue whether this is from illegal pet homes, human orangutan conflict or the illegal wildlife trade. These vets and their teams are often working in extremely difficult, demanding and dangerous conditions with minimal equipment and the support of OVAID is vital. In addition the charity seeks to educate and inform the public about deforestation issues, habitat lossand the plight of the orangutan,
During this accompanied tour Nigel & Sara will share presentations on their work with orangutan over the last 10 years and there will be plenty of time for one to one conversations as well as group discussions.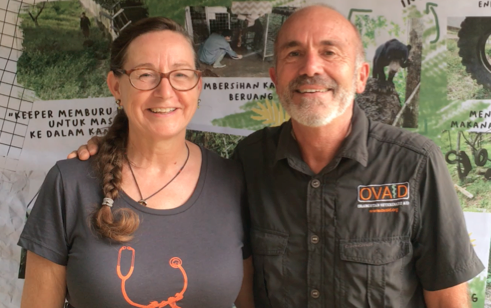 WHAT TO EXPECT
You are embarking on an adventure to places and amongst people whose lives are very different from your own. Many aspects of life in Indonesia will seem unusual. Remember that these are often the same aspects that make an area an exotic and attractive destination. While boat expeditions are considered easy, no trek is easy, even those rated "easy or moderate". In addition to the personal physical challenges you may face, travel conditions can present unexpected obstacles, such as rough and bumpy roads and changeable weather. To prepare for this "pack" a flexible and relaxed attitude. Bring a spirit of adventure and inquiry, a healthy sense of humor and a willingness to encounter the unexpected and you will find your trip to Indonesia the adventure of a lifetime!
Itinerary
Itinerary - 1st to 9th November 2019
**Subject to change due to local conditions.
Day 1 - 1st Nov: Arrive Jakarta.
We will meet you at the airport and transfer you to your hotel for overnight accommodation at the FM7 Hotel located near the airport. Tonight we shall hold a tour briefing and introduction to your OVAID tour, in the hotel.
Day 2 - 2nd Nov: Jakarta - Palangkaraya - Sabangau National Park
Early morning flight (5:30am) to Palangkaraya. Breakfast on arrival at local cafe. We go to meet rangers and boats (motorised canoes) on Sabangau lake. Cruise up the river to rangers station and do trekking where we will hopefully see wild orangutans, monkeys, birds and more. Lunch provided. Afternoon return for sunset along the lake. Stop local restaurant for dinner. Overnight Rungan Sari Resort (B,L,D) 
Day 3 - 3rd Nov: Palangkaraya - Nyaru Menteng - Rungan Sari Resort
This morning after breakfast travel to to BOSF's Nyaru Menteng for a visit to the information centre to learn more about their incredible work. We have the privilege of being given exclusive permission to enter the centre (normally closed to the public) to meet the vet team and hand over lifesaving veterinary donations. You will then have the unique opportunity to observe the young orangutan returning from forest school, having their time out and enrichment. After this, transfer to Rungan Sari Resort check-in. Afternoon there will be time for an optional swim, cycle ride and short forest walk plus a canoe trip to visit Kaja island in the afternoon or an evening hill top walk and visit spirit houses in the local village of Tangkiling. Overnight at  Rungan Sari Resort . (B,L,D) 
*Note: To gain access to the centres, for the protection of the orangutan, we have to comply with strict BOSF & IAR health regulations - important please see below.

Day 4 -4th Nov: River Boat Cruise 
Transfer to the boat at 9am. Enjoy breakfast on aboard and travel slowly along the river and observe the orang-utan release islands (we hope BOSF team will join us to explain about how the islands are used for pre-release. Lunch on board. After the orangutan islands, and then cruise up river and visit the local dayak village of Katimpun. Afternoon, depending on time we have a chance for a canoe trip around some of the small black water rivers. Dinner and overnight on board the Rahai'i Pangun riverboat.(B,L,D)

Day 5 - 5th Nov: Palangkaraya - Pontianak - Ketapang
Early moring our boat cruises down river to Palangkaraya in time for our airport transfer. Morning flight to Ketapang (subject to flight schedule confirmation). We will have two flights to catch and travel to Pontianak first to connect to with the flight into Ketapang. On arrival meet with our cars and travel to Sukadana and afternoon check in to our hotel. Afternoon we will visit the beach for sunset. (B,L)

Day 6  - 6th Nov: Gunung Palung National Park - Lubik Baji
Today we start our jungle adventure by heading into the jungle for an overnight stay. We will travel to a local village and then start our trek (about 2 hours) up the all to our camp site. Spend the rest of the day with trekking through the jungle surrounds looking for wildlife and hopefully some wild orangutans. Overnight at the camp site. Tents, mattress provided. (B,L,D)

Day 7 - 7th Nov: Lubik Baji - Ketapang - IAR centre.
An early morning walk before breakfast before trekking back down the hill to meet our cars and return transfers to Ketapang. Lunch in Suakadana. Afternoon at leisure and overnighht at the Aston Hotel. (B,L)

Day 8 - 8th Nov: IAR Visit 
Today, you will visit the orangutan clinic near Ketapang. You have been granted this very special access to the centre and while there, you will be given a tour of the facilities, talks about the current situation with the orangutans and other wildlife plus be given the opportunity to participate in the orangutan enrichment program. Final night's celebration dinner and overnight at the Aston Hotel. (B,L)

Day 9 - 9th Nov: Ketapang - Jakarta 
Morning flight from Ketapang to Jakarta (via Pontianak) to connect with International flights home or onward travel. 
HEALTH CERTIFICATES  -  MANDATORY REQUIREMENT
Please note that as part of this special access to visit both orangutan centres ALL guests are required to provide health certificates as outlined below. This is to ensure the continued health and safety for the orangutans in this location. Please arrange to visit your doctor and arrange for these tests to be carried out. 
A copy of the certificates and TB report will need forwarding to Orangutan Odysseys office 2 weeks prior to departure.
Visitors must be tested for both:
Tuberculosis: by one of the following methods - Interferon Gold, chest x-ray or Mantoux test.
Hepatitis B: by the following methods-  HBsAg or Anti HBc.
Evidence of these tests MUST be provided prior to entry at centres. 
Expedition Goals & Highlights
Our goal is to provide our guests with a unique experience, to observe wild orangutans in their natural habitat. We will provide you with a safe platform to observe other wildlife Borneo has to offer including proboscis monkeys, gibbons and more. We will also provide you with comprehensive information about the destination you are in so that you are fully informed of your surrounds.
HIGHLIGHTS
Travel with OVAID co-founders Nigel & Sara Hicks
See the orangutans in their natural rainforest habitat
Spend time cruising the amazing rivers searching for wildlife
Trek through the forest of Sabangau National Park
Visit the BOS Foundation rescue centre at Nyaru Menteng (closed to the public) where the recent ˜Orangutan Jungle School™ documentary was filmed
Exclusive guided tour of IAR™s rescue centre (closed to the public) & presentation of £30,000 + of x-ray equipment
Trek into the Gunung Paling National Park, camp overnight under the stars and search for wildlife
Visit the Dayak people of Borneo, learn about their unique culture and experience their way of life
Help save the orangutan
Inclusions & Exclusions
INCLUSIONS
Return domestic airfares from Jakarta
Accommodation in Jakarta on Day 1
Accommodations Palangkaraya, Balikpapan and Samboja Lodge
Meals as outlined in Itinerary. (B,L,D)
All National park fees including camera fees
All transfers in all locations
Professional local Guides through the expedition
OVAID "goodie pack" (see details below)
Donation included for a one year Orangutan Adoption
Orangutan Odysseys water bottle and travel pack
Ranger and local guide fees
EXCLUSIONS
International Airfares
Travel Insurance (mandatory)
Personal expenses
OVAID "Goodie Pack" - Valued at £50. Note: Issued after full tour payment completed
T-Shirt
Pen
Tote bag
Necklace
Soap
Card
Sticker
Donations, Fees & Costs
The purpose of this trip is to create awareness of the threat of extinction facing orangutans because of the destruction of their rainforest habitat and to raise funds to help orangutans. The trip hosts, Nigel & Sara are generously donating their time and expertise to help make this a most unique trip and a special experience for all our guests.  Orangutan Odysseys tours have now raised over $1,000,000 since 2011 to help support the orangutan™s survival. Each participant of the trip will adopt an orangutan (included in trip fare) and agree to fundraise a minimum of GB£850 in donations specifically for OVAID. Your participation in this event WILL make a difference.
 
How your money will be spent?
All of the money raised will be completely utilised by OVAID to supply much needed equipment to the IAR orangutan vet team in Borneo, medicines and equipment for the BOSF vet team at Nyaru Menteng and to support the further training of Indonesian vets. Nigel & Sara have advised that the following equipment supplies will be provided:-
 
For International Animal Rescue (IAR) orangutan rescue centre, Ketapang
1 x Agfa DX-D40 ˜instant™ digital radiography solution.
In addition we will provide a new portable x-ray generating machine which is capable of x-raying a fully grown male orangutan
Together these two pieces of equipment will provide a state of the art complete digital x-ray system for the centre which produces instant ultra-detailed images and costs in excess of £40,000 retail.
OVAID will provide full on-site installation of the equipment together with full training over several days to ensure that the vet team are confident in it™s use.
Maintaining equipment in the harsh tropical climate is difficult and expensive so OVAID have instigated an arrangement whereby the supplier will provide full back up for the machines in event of any failure, both remotely (some solutions can be fixed remotely via computer) and if necessary in person.
OVAID will also fund free on site specialist sonography training in the use of the IAR centre™s ultrasound machine (donated by OVAID) by a fully qualified sonographer over the same period as the x-ray training. This is something that the vet team have specifically requested. 
For BOSF Nyaru Menteng, Palangkaraya 
Depending on the income from the tour and OVAID™s fundraising activities over the next few months we will also assist in fulfilling many items on the ˜wish list™ of the veterinary team at Nyaru Menteng. We will communicate with the centre™s vets on their exact requirements but we should be able to contribute a significant donation of essential medicines and urgently needed equipment.
How else you can help
Bring along some Vet supplies. 
Many of our guests feel that in addition to their fundraising effort for OVAID, they would like to make a small personal contribution / presentation to the vet teams. Please note this is entirely optional.
The following is a list of useful equipment for tour participants to bring - items are always needed by all centres.
Your local veterinary practice is a good source and might even be willing to donate (e.g. slightly out of date suture material can still be used) or they may be able to help you to obtain some items. Alternatively, for those of you within the U.K., OVAID can make direct purchases on your behalf. If you are offered other items as donations, please feel free to contact OVAID re: suitability at orangutanveterinaryaid@gmail.com
Tourniquets similar to click here:
Gauze swabs (100 x 10cmx 10cm non sterile) Probably obtainable from your local vet and are cheap click here example
Finger pulse oximeters similar to click here.
QualityStethoscopes.  Stethoscopes made by Heine or Littmanns cost approximately £40 - £65+VAT. OVAID can purchase these VAT free if you contact us
Quick read digital thermometers similar to click here.
Suture materials - especially Vicryl or PDS size 2/0 or 3/0 on cutting needles similarto click here.Probably available from your vet or contact OVAID - a pack of 12 sutures can cost approximately £20-£25
Microscope slides and cover slips. Similar to click here
Surgical scissors -These are really sought after - OVAID can purchase them for you @ £7 a pair! Details click here.
Intravenous giving sets (probably obtainable from your local vet) similar to click here.
Ibuprofen ointment
Syringes - 3ml / 5ml/20ml/30ml/50ml Obtainable from your local vet - they may even donate! Whilst lightweight these can be bulky but can be packed loose around your clothes!
Hypodermic needles CAUTION - these MUST be packed in hold luggage.Most needed sizes are 21G x 5/8and 24G x 1/2